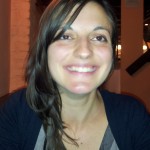 Daniela D'Imperio studied a BA in psychology and a MA in neuroscience and neuropsychological rehabilitation at the University of Bologna, Italy. She undertook a research internship at the Humboldt University of Berlin, about attention and electrophysiological measurements.
During the academic studies she accomplished a semester at the Radboud University and at the Donders Institute of Nijmegen in the Netherlands, where she collaborated in the investigation of theory of mind and communication.
Daniela is currently a visiting student at UCL in London, where she joins the research group of interoception neuroscience and unawareness in anosognosia patients.