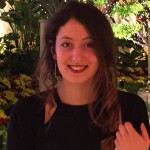 Elena Panagiotopoulou completed a BSc (Hons) in Psychology at UCL and an MSc (Distinction) in Psychoanalytic Developmental Psychology at UCL and the Anna Freud Centre. During and after her MSc, she gained research and clinical work experience at UCL, Imperial College London, Tavistock and Portman NHS Foundation Trust and the Anna Freud Centre. She then completed an MSc in Cognitive Neuroscience at UCL as part of a 1+3 PhD studentship co-funded by the Economic and Social Research Council (ESRC) and the Neuro-psychoanalysis Fund (NPSA).
Elena is currently in the first year of her PhD which investigates body image resilience, affective touch and mentalisation, under the supervision of Dr Fotopoulou.
Download Elena's CV
Contact details: e.panagiotopoulou@ucl.ac.uk
Publications
Gentsch, A., Panagiotopoulou, E., & Fotopoulou, A. (2015). Active Interpersonal Touch Gives Rise to the Social Softness Illusion. Current Biology, 25(18), 2392-2397. (pdf).