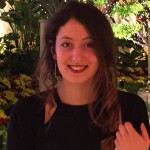 Elena Panagiotopoulou holds a BSc (Hons) in Psychology (UCL), an MSc in Psychoanalytic Developmental Psychology (UCL/Anna Freud Centre) and an MSc in Cognitive Neuroscience (UCL). She has gained research and clinical work experience at UCL, Imperial College London, City University London, Tavistock and Portman NHS Foundation Trust and the Anna Freud Centre. She is now in the final year of her 1+3 PhD studentship which is co-funded by the Economic and Social Research Council (ESRC) and the Neuropsychoanaysis Fund (NPSA). Her PhD is supervised by Dr Katerina Fotopoulou and Prof Alessandra Lemma and investigates body image perception, beauty and self/other distinction.
Contact details: e.panagiotopoulou@ucl.ac.uk
Publications
Panagiotopoulou, E., Filippetti, M.L., Tsakiris, M., & Fotopoulou, A. (2017) Affective Touch Enhances Self-Face Recognition During Multisensory Integration. Scientific Reports, 7: 12883 (link)
Gentsch, A., Panagiotopoulou, E., & Fotopoulou, A. (2015). Active Interpersonal Touch Gives Rise to the Social Softness Illusion. Current Biology, 25(18), 2392-2397. (pdf).