Dr Fotopoulou is presenting in Berlin on the 8th December, at the symposium entitled "Hunger Art: A Disease between Rapture and Abyss." organized by the Schering Stiftung and the Leibniz Association. (link)
***
Dr Fotopoulou presented her work at the 44th Naito Conference on "Decision Making in the Brain―Motivation, Prediction, and Learning", which was held at CHÂTERAISÉ Gateaux Kingdom SAPPORO, Hokkaido, Japan, October 3-6, 2017.
***
Dr Kirsch presented  the latest work from KatLab at the Workshop "The Enactive Development of the Self: from self-perception to interaction under uncertainty", 7th Joint IEEE International Conference on Development and Learning and on Epigenetic Robotics, in Lisbon, Portugal
***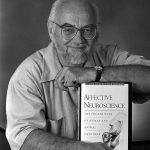 It is with great PANIC that we note and communicate the passing of Jaak Panksepp. [read more]
***
Laura Crucianelli  has been awarded an international Neuropsychoanalysis fellowship to examine the effect of oxytocin and affective touch in Anorexia Nervosa. 
Together with Dr Fotopoulou, she has also been awarded the Fund for Psychoanalytic Research from the American Psychoanalytic Association. 
***

Media coverage of a new Katlab paper published this week in Social Cognitive and Affective Neuroscience:
***
NEW ARTICLE in CORTEX SPECIAL ISSUE on ANOSOGNOSIA: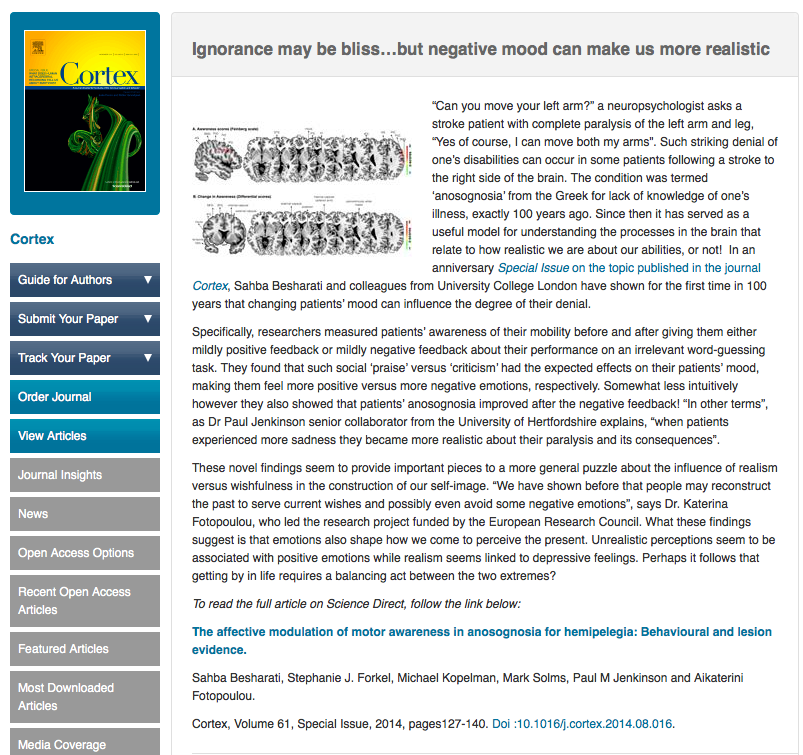 http://www.journals.elsevier.com/cortex/featured-articles/ignorance-may-be-bliss-but/
***
THE INTERNATIONAL ASSOCIATION
FOR THE STUDY OF AFFECTIVE TOUCH: 
INAUGURAL CONGRESS!
University College London
Friday 20 – Sunday 22 March 2015
(Friday 1pm to Sunday 2pm) 
Details here: IASAT Full
Several influential studies have recently drawn attention to an affective dimension of touch, its social and cognitive role, as well as its neurophysiological and genetic basis. The main  aim of this congress is to
provide a platform for fruitful scientific exchanges in this nascent field. The congress will bring together for the first time researchers from around the world exploring the nature and role of affective touch in the
human brain and mind.
We particularly hope the congress will foster interdisciplinary dialogue between the different fields interested in affective touch such as psychology, physiology, genetics, neurobiology and affective neuroscience. During the meeting, we also aim to hold the first, founding meeting of the International Association for the Study of Affective Touch, in which the mission and governance of the Society can be decided.  Speakers include:
EMMANUEL BOURINET (FRANCE), CARISSA CASCIO (USA),
CHRIS DIJKERMAN (NETHERLANDS),
ROBIN DUNBAR (UK), KATERINA FOTOPOULOU (UK),
DONNA LLOYD (UK), SARAH LLOYD-FOX (UK),
FRANCIS MCGLONE (UK), MICHAEL MEANEY (CANADA),
INDIA MORRISON (SWEDEN), HÅKAN OLAUSSON (SWEDEN), 
MARTIN PAULUS (USA), CHARLES SPENCE (UK), 
SOPHIA VRONTOU (USA)
SPECIAL GUEST: CAMILA BATMANGHELIDJH (KIDS COMPANY, UK)
THE CALL FOR PAPERS
 You are invited to submit abstracts for empirical research presentations and posters. The conference aims to focus
on studies on affective touch, but presentations on closely related topics, such as for example pain,
are also welcome.   All Abstracts should contain the following information:
            1. Title
            2. Names of all authors, with institutional affiliations and credentials (e.g., M.A., 
                Ph.D., M.D.)
            3. Introduction, Methods [clear information on methods and sample size is 
                required), Results, and Conclusions (500 words maximum, not including title 
                and author information)
            4. Oral or poster presentation preference (we cannot guarantee all but will do  
                our best)
            5. Short Bio: max 150 words 
Abstracts are due by 05th January 2015. Please submit your abstracts by clicking here;
you will receive a receipt and a reference number, and notification
of acceptance status and presentation type (oral vs poster)
will be made by end of January. If you do not receive an
acknowledgement of receipt, please follow up by email.
Further info: www.neuropsa.org.uk & affectivetouch@gmail.com; Click here to register
***
The Annual Meeting of the New Champions, which will be held in Tianjin, China, 10-12 September 2014
Katerina presented her work at this years 8th Annual Meeting of the Word Economic Forum. More than 1,500 participants from 90 countries will convene under the theme Creating Value through Innovation, with the programme focusing on its scientific, technological and environmental aspects.The World Economic Forum is an international institution committed to improving the state of the world through public-private cooperation. Watch the entire talk here.

***
Conference: Infancy and the self/other differentiation. Perspectives from phenomenology and psychoanalysis
Katerina will talk about: 
                   "The touched self: Affective touch and bodily dimensions of selfhood"
Recent decades have marked a major paradigm shift in research on early self/other differentiation. The popular view today is that infants are equipped with a sense of differentiation from birth, and this view has often been interpreted as replacing the classical psychoanalytic account in which the infant/caretaker relation was rather discussed in terms of symbiosis and undifferentiation. However, it is unclear as to whether the new paradigm ought to be interpreted as substituting or complementing the old one.
The objective of this conference is to combine insights and resources from phenomenology, psychology, and psychoanalysis in order to investigate whether there could be room for both views, thus aiming at a more comprehensive account of infantile experience.
***
Enacting Culture Conference: 15-17th October in Heidelberg, Germany
Enacting Culture Embodiment, Interaction and the Development of Human Culture
Katerina is talking on
"From the Body to the Self via Others: Neural and Psychodynamic Mechanisms of
Joined Salience"
Welcome to Heidelberg and the international conference "Enacting Culture", organized by the European Research Network TESIS("Towards an Embodied Science of Intersubjectivity"). The conference addresses the complex reciprocal interplay of biological and social factors in the shaping and development of human culture. Three main sections will address the following questions:

1) Nature and Culture: Continuity, Emergence or Negation?
Enactivism investigates the sensorimotor capacities that enable humans and animals to interact with the environment and conspecifics in particular ways. Can culture be considered as a continuous development of such natural embodied skills, does it "emerge" from the basic forms of social interaction, or does it rather require a "negation" or some form of distancing from nature?

2) Embodied Intersubjectivity as a Basis of Culture
Can the new paradigm of embodied and enactive approach to intersubjectivity contribute to a clarification of cultural phenomena? How shall we conceptualize the relation between pre-linguistic intersubjective phenomena and higher symbolic phenomena that involve language?

3) Psychopathology and Culture
What are the principal anthropological preconditions for humans to be vulnerable to mental illness? Which cultural settings make it more or less probable for certain types of mental illness to appear and spread in a population? Could psychopathological states be interpreted as withdrawals from the common sphere of the cultural life-world and thus from embodied interactions?

A number of distinguished speakers from inside and outside the TESIS network have been invited for the conference. We look forward to a stimulating exchange of views and to fruitful discussions.
***
Neurological disturbances in awareness can offer an important avenue to explore the construction of the bodily self. AHP is one such example of a disorder of self-awareness, where patients have a lack of recognition or awareness of their motor paralysis following a stroke. AHP can have various clinical presentations, ranging from blatant denial of limb paralysis and associated delusional beliefs to emotional indifference of one's motor disabilities…. Continue reading here and in the new paper: Besharati, Sahba, et al. "Another perspective on anosognosia: Self-observation in video replay improves motor awareness." Neuropsychological rehabilitationahead-of-print (2014): 1-34.
***
ERC Project: Constructing the self
How does our acting, sensing and feeling body shape our mind? Dr Katerina Fotopoulou's ERC-funded project is an ambitious exploration of the relationship between the body and the mind which spans philosophy, psychology and clinical neuroscience. She will be presenting her work at the World Economic Forum Annual Meeting of the New Champions  in Tianjin, China (10-12 September). In preparation for her presentation, Dr Fotopoulou is concentrating on one particular aspect of her research: the ramifications of body image.
Continue reading here
***
The Annual Meeting of the New Champions, which will be held in Tianjin, China, 10-12 September 2014
Katerina will be presenting her work at this years 8th Annual Meeting of the Word Economic Forum. More than 1,500 participants from 90 countries will convene under the theme Creating Value through Innovation, with the programme focusing on its scientific, technological and environmental aspects.The World Economic Forum is an international institution committed to improving the state of the world through public-private cooperation.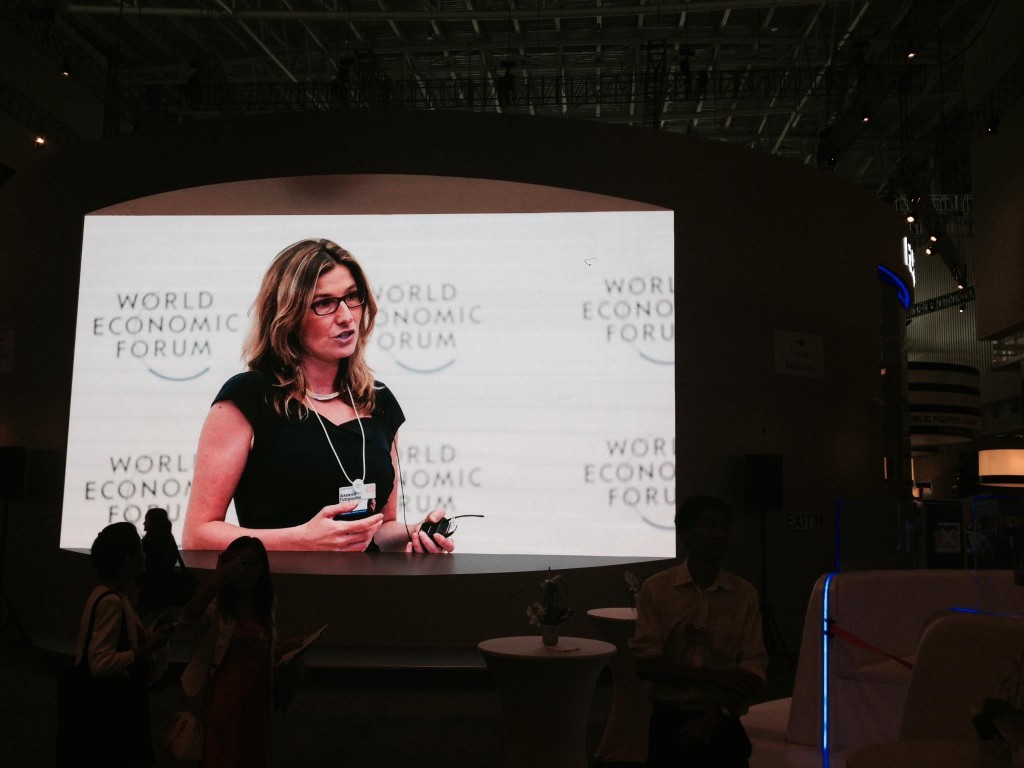 ***
Voxel-based lesion-symptom analysis summer school at the VA California, Martinez, US. Stephanie was taught VLSM from the expert team around Dr Nina Dronkers at the CARD.  VLSM is a MATLAB toolbox for evaluating statistical relationships between damage to specific brain regions and resulting deficits (Bates et al., 2003). VLSM can be used for the analysis of both discrete and gradiated lesions (i.e. VBM), and in both cases incorporates permutation tests for robust assessment of statistical significance.
***
Stephanie was awarded a generous stipend to attend the NIH-funded summer school Neuroimaging Training Programme at UCLA, Los Angeles, California, US. The purpose of this course is to provide a solid foundation in state-of-the-art functional neuroimaging methods. The course covers all aspects of MRI-based neuroimaging data acquisition, experimental design, and data analysis. In addition, students interact closely with lecturers in hands-on laboratory exercises and data analysis projects. This program is targeted to investigators with significant experience in neuroimaging who are eager to gain more tools and knowledge to apply to their work. Only 35 students are admitted per year.
The course is run by Neuroimaging experts Mark Cohen and Susan Bookheimer.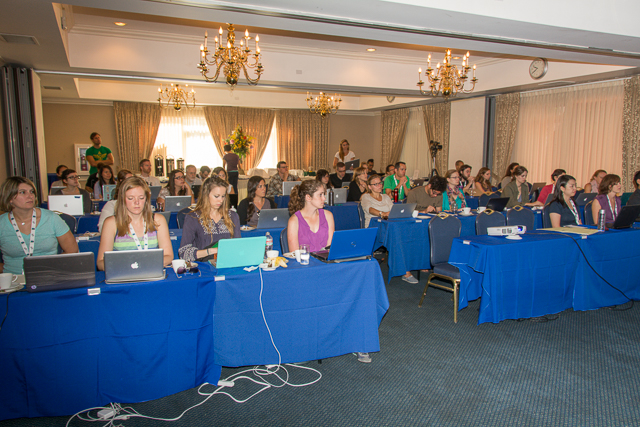 ***

The 15th International Neuropsychoanalysis Congress
Our team will be present during this conference to give talks and present posters relating to the current research produced by KatLab.
***

Stephanie has been elected to join Nobel Laureates and international colleagues in Lindau. At the 64th Lindau Meeting 37 Nobel Laureates will meet with around 600 young scientists to share their knowledge, establish new contacts and discuss relevant topics such as global health, the latest findings in cancer or Aids research, the challenges in immunology or future research approaches to medicine. The young scientists representing almost 80 countries have passed the multi-stage selection process. For the first time in the history of the meetings the percentage of female participants is higher than the male`s percentage (52 to 48%).
***
Paul and Katerina are editing a Special Issue on 'Understanding Babinski's Anosognosia: 100 years later', Cortex. 
The issue will mark the 100th anniversary of Joseph Babinski's seminal paper "contribution à l'ètude des troubles mentaux dans l'hémiplégie organique cérébrale (anosognosie)", in which the term anosognosia was first coined to describe an apparently selective ignorance or unawareness of paralysis following right-hemisphere cerebral damage. Anosognosia has since undergone considerable development in terms of scope and specificity, and has been the subject of intense clinical and scientific interest, owing to the fact that unawareness creates a clinically-challenging functional impairment, but also a potentially rich source of insight into the mechanisms of self-consciousness. This special issue will provide a 21st century update of developments in anosognosia research. New papers from leading researchers in the field will consider anosognosia for hemiplegia following stroke; anosognosia for sensory, language and memory impairments; and unawareness phenomena in neurodegenerative disorders such as Alzheimer's and Parkinson's disease. Empirical studies that combine neuroimaging, clinical and experimental data will be presented alongside (longitudinal) case studies of anosognosia, state-of-the-art neuroimaging studies, and review papers covering clinical, conceptual, historical, empirical and theoretical issues of importance for the understanding of anosognosia in various neuropathologies. The special issue will discuss the far-reaching implications and impact of anosognosia research, and consider the challenges, limitations and future developments in the field, thereby providing a fertile environment for the generation of novel hypotheses for future research.
***
Applications are invited for an exciting 1-week summer school in Aigina, Greece, on the topic "Shared experiences: The boudaries of the social brain". Please see here for details!

***
Affective touch may be key to healthy sense of self.
Our paper "Bodily pleasure matters: velocity of touch modulates body ownership during the rubber hand illusion" by Laura Crucianelli, N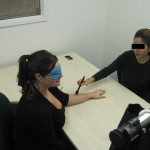 icola Metcalf, Katerina Fotopoulou and Paul Jenkinson has just come out in Frontiers in Psychology and has been picked up by the media!
Read some of the media coverage here:
The study investigated whether applying slow velocity, known to elicit interoceptive feelings of pleasantness, would influence the illusion of ownership in the rubber hand illusion (RHI) more than faster/emotionally-neutral tactile stimuli.
We found that slow velocity touch was perceived as more pleasant and it produced a higher level of subjective embodiment during the RHI. These findings provide support for the idea that affective touch, and more generally interoception, may have a unique contribution to the sense of body ownership, and by implication to our embodied psychological "self".
***
KatLab is off to summer school…
Katerina, Laura, Sahba and Charlotte will be in Greece from June 9th – June 15th for the Aigina Summer School 2013: "Embodied Inter-subjectivity : the 1st person and the 2nd person perspective".
***
Books: Look out for From the Couch to the Lab: Trends in Psychodynamic Neuroscience.  Eds. A. Fotopoulou, D. Pfaff and M.A. Conway Oxford University Press. Published in March 2012